Hola few readers!
The past week or so has been busy busy busy- I'm ALMOST done with the guest room, pictures to come soon- and cannot wait to be on to a new project. I'm having a very hard time containing myself to leaving the living room alone. It makes no sense to start that when we do not have furniture that I like and won't be getting any anytime soon. However, Jeff & Engie are going to be building a bookcase (yes, I know...I am skeptical of this also) and whenever that gets done or I buy a new one, I'll start on the living room redo.
I feel very scattered lately like I can't start something without stopping or wanting to start something new. I have a million ideas for the house & just cannot pin them down! Jeff leaves for Australia (Sep 24th for 22 days!) and I think when he is over there I am going to try to stay busy so I do not pine. Therefore, If money & time allow- the master bath is my next project. I've decided on crisp white accents and slate gray walls. I looooove this bathroom:
so we'll see what I can do. By myself. Scary, I know. I'd love to get the whole thing done while he is away and sort of surprise him with my awesomeness. Um...however, I want to rip out the shower and install a nice tile one. You think I can do that?
I like the color of the tiles here....If I could manage this, I'd be impressed. I mean, it can't be THAT hard, right? Rip out old shower. Install new shower floor. (I don't think i'm cool enough to have a tiled shower floor..) Slather goop on the walls and afix the tiles. DONE. I know it is more difficult than that, however, that is what Youtube is for. And maybe Steve, Jeff's brother. Anyway, definitely something to think about...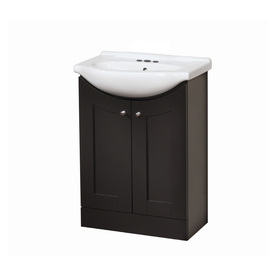 On the other hand, I could just paint the walls and replace the sink/mirror/shelving and call it a day! I like this sink...and it isn't very pricey. Plus storage space.
Wow, I just realized how terribly boring this blog is- but it is helping me organize my thoughts, damnit!
Then I want just a nice mirror over the sink- not a medicine cabinet. A quick re-do of light fixtures...an old wooden ladder used as a towel holder...
this is to be continued..